var session_id;localStorage.getItem("session_id")&&window.document.referrer&&window.document.referrer.split("/")[2]===location.hostname?session_id=localStorage.getItem("session_id"):(session_id=Math.floor(1e6*Math.random()+1)+Math.round((new Date).getTime()),localStorage.setItem("session_id",session_id));var timeoutValue=18e5;function eventListener(e,t){document.addEventListener(e,function(){window.clearTimeout(t),t=setTimeout(function(){},timeoutValue)})}var timer=setTimeout(function(){localStorage.removeItem("session_id")},timeoutValue);eventListener("mousedown",timer),eventListener("scroll",timer);var utm_src="unk",utm_mdm="unk",acb=Math.round((new Date).getTime()),title=window.document.title,url=window.location.href,cust="3146731-561-WTLV",prd="web",ref=window.document.referrer;function decode(e){return-1!=e.indexOf("%3D")?decode(decodeURIComponent(e)):e}function set_param(e,t,s){var n=e[0];n+="&"+(t=encodeURI(t))+"="+(s=encodeURI(s)),e[0]=n}(url=decode(url)).indexOf("utm_source=")>-1&&(utm_src=url.substr(url.indexOf("utm_source=")+"utm_source".length+1).split("&")[0]),url.indexOf("utm_medium=")>-1&&(utm_mdm=url.substr(url.indexOf("utm_medium=")+"utm_medium".length+1).split("&")[0]);var pixel_src="https://alpixtrack.com/ad/ord="+acb+"?prd="+prd+"&cust="+cust+"&utm_source="+utm_src+"&utm_mdm="+utm_mdm+"&url="+encodeURIComponent(url)+"&title="+encodeURIComponent(title)+"&sess_status=st&sess="+session_id+"&ref="+encodeURIComponent(ref);set_param(pixel_src=[pixel_src],"event_type","visit"),(new Image).src=pixel_src[0],window.onbeforeunload=function(){acb=Math.round((new Date).getTime()),(new Image).src="https://alpixtrack.com/ad/ord="+acb+"?prd="+prd+"&cust="+cust+"&sess_status=en&sess="+session_id+"&ref="+encodeURIComponent(ref)};
CHEVROLET BUSINESS ELITE DEALER
Our commercial vehicle experts know the meaning of hard work. We're dedicated to learning your unique business needs and ensuring your work vehicles never miss a beat. View our inventory of work-ready vehicles or learn more below.

View Inventory

YOU DESERVE THE ELITE TREATMENT
Business Elite is more than just a name, it's a suite of products and services you won't get from anyone but your Business Elite Dealer:
Dedicated Dealer Representative

Individual help so you get the exact vehicle you need for your job
Recommendations for appropriate upfits

Extended Service Hours

Get the equipment and services you need outside of a 9-5 day
Ensure your business doesn't miss a beat

Work-Ready Loaners

Stay on task with available loaner vehicles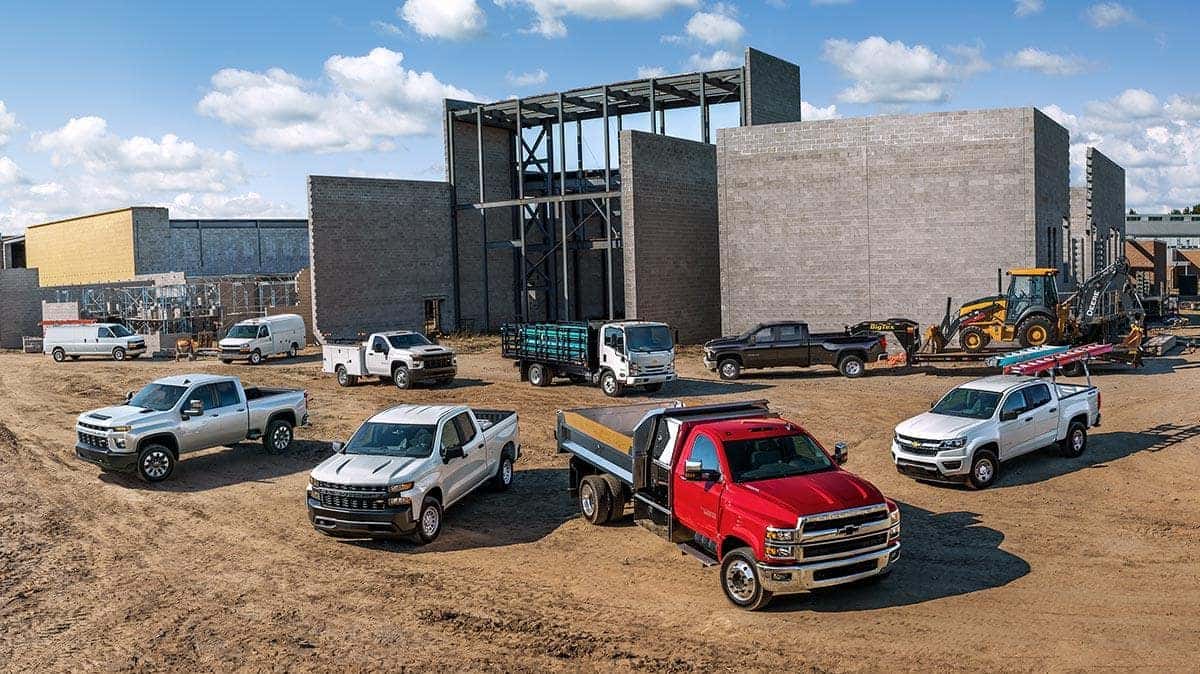 BUSINESS CHOICE OFFERS: FLEXIBLE SOLUTIONS FOR YOUR BUSINESS
As your business partner, we're offering cash allowances on either GM Accessories or upfits on the purchase of your new Chevrolet.

View Offers
YOUR TAX DOLLARS AT WORK
Immediately write off up to 100% of the purchase price of eligible Chevy vehicles!1 For 100 years, Chevy has helped business owners do what it takes to get the job done. Now, under new tax depreciation laws, your business may be eligible to immediately deduct up to 100% of the purchase price of an unlimited number of qualifying Chevy vehicles purchased in 2019 for business use.

FIRST YEAR VEHICLE DEPRECIATION LIMITS FOR 2019
Up to $18,100 per vehicle (no aggregate limitation)
2
Spark
Sonic
Cruze
Malibu
Impala
Volt
Bolt EV
Trax
Equinox
Camaro
Corvette
Colorado
City Express
Up to 100% of purchase price (no per-vehicle or aggregate limitation)
3
Silverado 1500
Silverado 2500HD
Silverado 3500HD
Silverado 3500 Chassis Cab
Silverado 4500HD, 5500HD and 6500HD Chassis Cab
Blazer
Traverse
Tahoe
Suburban
Express Cargo Van
Express Passenger Van
Express Cutaway
Low Cab Forward
Our Fleet Staff
Justin Maggio

Sales Associate

Barry Trudel

Sales Associate

Mike McCullers

Fleet & Commercial Manager

Dennis Sergent

Sales Associate

Peyton McCullers

Sales Associate

Mike Watson

Sales Associate

Troy Askew

Sales Associate
2 Passenger automobiles as defined under the Internal Revenue Code (including sport utility vehicles, trucks and crossovers with a GVWR of 6,000 lbs. or less) and placed in service during 2019 qualify for immediate depreciation deductions of up to $18,100 per vehicle.
3 Trucks, vans and sport utility vehicles as defined in the Internal Revenue Code with a GVWR over 6,000 lbs. and placed in service during 2019 qualify for immediate depreciation deductions of up to 100% of the purchase price.
BACK TO TOP
Search
Search By Keyword
Search By Filters